WATCH OUR TRAILER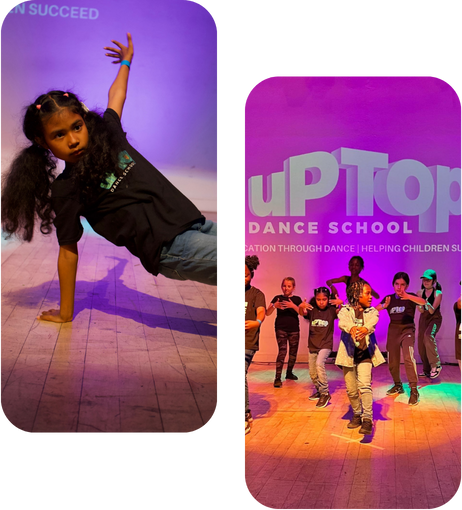 Why UpTop Dance?
UpTop Dance School offers a well-rounded education through dance, prioritizing children's skills, confidence, and physical fitness in a safe and personalized environment.
By learning discipline, teamwork, and creative expression, children's lives can be positively impacted, while staying active and healthy, improving their coordination, balance, and flexibility.
Embark on your child's dance journey
Witness your child discover the joy of movement, the power of expression, and the beauty of self-discovery.
What age group do you offer dance classes for ?
Our dance classes are designed to cater to a diverse range of age groups, ensuring that each individual's needs and developmental stages are met effectively. We offer classes for three distinct age groups: ages 4-5, ages 6-9, ages 10-14.
How do I register my child for a free trial ?
To sign up for a free trial, please fill out the registration form . Our staff will then get in touch with you within 2-3 working days via phone or WhatsApp to schedule the trial date.
What dance styles will my child learn?
At UpTop Dance School, your child will have the opportunity to learn an array of street dance styles, with a primary emphasis on hip-hop and dancehall.
Where can I find UpTop Dance safeguarding policy?
We are proud to have crafted a secure and welcoming space for children to learn and thrive. You can find our safeguarding policy in the footer of our website or access it directly here.
Are there any performance opportunities for students?
At UpTop Dance, children will be given the chance to showcase their skills at our annual end-of-school showcase in July and participate in individual dance battles scheduled throughout the year. Additionally, our advanced and intermediate groups also have various performance opportunities throughout the year.
What type of subscription do you offer?
Our fees cover the classes for a term, which consists of 12 weeks of dance classes. If you start after the term begins, you'll need to make a payment of £12 for each class left in the term, covering the remaining sessions in one lump sum. We show the term and holiday dates on our website at www.uptopdance.com/timetable when each term starts.
We have special discounts for siblings. If your children join after the term begins, each child gets a 15% discount.
For a full-term subscription, there's a siblings discount of £20 per child .
Read our latest blog & articles
Insights from the parents
My boy loves Larisa and Andrei. Signing him up to UpTop Dance was the best decision ever. He can express his self, meet new kids and after every lesson he is so proud of himself as same as us, his parents.
Highly recommended!
Great dance class for the children. Enjoyable and the teachers instill dancing pride in the children, constantly giving feedback to parents.
Highly recommended!
My daughter has really enjoyed the classes and there has been much improvement in her confidence. The team are really professional and patient.